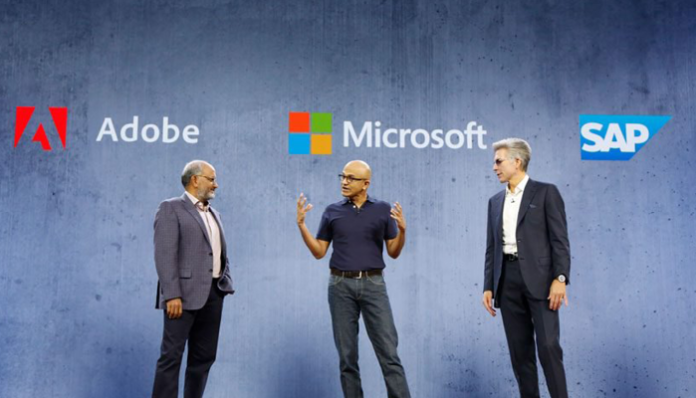 As the digital transformation of business heats up, every company is challenged to digest the various data points from all types of customer interactions to build the "one view" of the customer experience. A "one-view" that will allow companies to better understand and feed the desires of their customers, in real-time.
Announced at the Ignite Conference, Microsoft (CEO – Satya Nadella), SAP (CEO – Shantanu Narayen) and Adobe (CEO – Bill McDermott) have sparked this "Open-Data" movement in order to help companies to better control and use their valuable data. The endgame is to make it easier and more affordable to compile and digest data to deliver the best customer experiences, and ultimately sell more stuff.
Leveraging the Azure platform and AI, Adobe's customer experience platform, Dynamics 365 and SAP will unlock the collective data to drive the next generation customer experience economy.
This is just early days, but eventually all applications may need to subscribe to the open data system playbook. This is one way that all of the data can blend together to give the full picture of the customer.
"Tech Intensity" was a term touted a lot by Satya Nadella, CEO of Microsoft, as the umbrella for what is required for businesses to benefit from the advances in digital technology. Security was also a focal point for protecting the data and technology investment of companies.
Microsoft says that it processes about 6 trillion security checks every day. With 9 billion edge (IoT) devices already deployed in the World, Azure Sphere was developed to help provide the end-to-end security. As the digital technology wave expands, the attacks on these end devices will clearly become more critical and may actually have greater consequences to human life as compared to hacking into data.
Satya Nadella said, "Users need less friction in deploying security measures in order to ensure security is adopted".
Nadella's comment may be one of the biggest keys to getting improved security as the data shows that humans are the weakest link when it comes to security breeches. Two-factor authentication like adding your mobile phone number is being peddled by many in the security community, but then again, giving up yet another piece of your identity (like your mobile number) may open up doors to yet another form of attack. What's next? Five-factor authentication security? Whatever the answer is, I am sure the security "cat and mouse" game will continue to intensify and AI will probably play a big role on both sides of the equation.
Of course AI is the 800-pound gorilla in the room. AI may be the beginning of the final frontier in the tech space. While many have opinions and predictions on what AI will be and where it could take us, it feels way too early to come to any concrete conclusions. All sides are digging into to their vision of AI. My best guess is that the future of AI is mostly unpredictable so proceeding with extreme caution is wise.
Unfortunately without meaningful regulation on a global scale, it seems impossible to keep a lid on this genie. This may be the one technology that we do not want to get away from our control and just as bad may the few humans that could end up being in control of AI. Who could you really trust to be at the controls of AI?
AI can be for bad as much as it can be for good. Microsoft talked about their "AI for good" program and provided some great examples how AI can be used for better managing disasters, predicting when and where famine will occur and help refugees or displaced people to get the help that they need. I definitely see how this can help humans and kudos to Microsoft for fueling this direction.
AI will also be a game-changer in developing medicines and improving health. To me, AI will become like what oxygen is to humans. It's everywhere and will most likely affect everything we do and while "AI for good" sounds warm and fuzzy, I wonder how this same AI could easily be flipped for bad.
AI reminds me of that story about the farmer's son fortune or misfortune. I think its good story for everyone to keep in mind as they look at Artificial Intelligence…
[Here is the story, if you don't remember:
"One day in late summer, an old farmer was working in his field with his old sick horse. The farmer felt compassion for the horse and desired to lift its burden. So he left his horse loose to go the mountains and live out the rest of its life.
Soon after, neighbors from the nearby village visited, offering their condolences and said, "What a shame. Now your only horse is gone. How unfortunate you are!. You must be very sad. How will you live, work the land, and prosper?" The farmer replied: "Who knows? We shall see".
Two days later the old horse came back now rejuvenated after meandering in the mountainsides while eating the wild grasses. He came back with twelve new younger and healthy horses, which followed the old horse into the corral. 
Word got out in the village of the old farmer's good fortune and it wasn't long before people stopped by to congratulate the farmer on his good luck. "How fortunate you are!" they exclaimed. You must be very happy!" Again, the farmer softly said, "Who knows? We shall see."
At daybreak on the next morning, the farmer's only son set off to attempt to train the new wild horses, but the farmer's son was thrown to the ground and broke his leg. One by one villagers arrived during the day to bemoan the farmer's latest misfortune. "Oh, what a tragedy! Your son won't be able to help you farm with a broken leg. You'll have to do all the work yourself, How will you survive? You must be very sad". They said. Calmly going about his usual business the farmer answered, "Who knows? We shall see"
Several days later a war broke out. The Emperor's men arrived in the village demanding that young men come with them to be conscripted into the Emperor's army. As it happened the farmer's son was deemed unfit because of his broken leg. "What very good fortune you have!!" the villagers exclaimed as their own young sons were marched away. "You must be very happy." "Who knows? We shall see!", replied the old farmer as he headed off to work his field alone.
As time went on the broken leg healed but the son was left with a slight limp. Again the neighbors came to pay their condolences. "Oh what bad luck. Too bad for you"! But the old farmer simply replied; "Who knows? We shall see."
As it turned out the other young village boys had died in the war and the old farmer and his son were the only able bodied men capable of working the village lands. The old farmer became wealthy and was very generous to the villagers. They said: "Oh how fortunate we are, you must be very happy", to which the old farmer replied, "Who knows? We shall see!" ]
There is a huge "book" of announcements at the Microsoft Ignite conference and way too much to digest at this stage. No doubt that Microsoft is doing some amazing things on the technology front that will continue to fuel growth in the channel. Authorized Microsoft cloud distributors like Sherweb and ITCloud are doing amazing stuff to help channel partners to generate more profits and grow the MS book of business. I would urge all channel partners to hook up with them to understand how.
One thing that I am particularly keen on is how Microsoft will integrate LinkedIn with their platforms like Dynamics and Office. Things like being able to connect your outlook to LinkedIn contact profiles are signs of big things to come. How will other CRM platforms play in this sandbox? And, when or if they do, how will that massive pool of customer data and business intelligence being fed into the system be exploited. Something to ponder…
One final comment by Satya Nadella that stood out for me is that companies need to make the right decision on "buy or build". Why build something that is already available or lock into a provider to build what you need so they they can possibly resell it to competitors down the road. Companies need to research extremely well before committing their resources. No one has time or money to waste. The market is moving so fast that companies who fail to adapt in a timely matter may spell "disaster".
I used to be in "shock and awe" with Apple as their advancements in the tech space changed that way we live, work and play. I was one of the early believers of Apple's "Changing the World One Person At Time" movement. Today, it seems that Microsoft may have taken over that torch of innovation and inspiration. The battle between these two giants matter far less today as we are now in a new era of accelerated technology or "Tech Intensity" as Nadella puts it. Will Microsoft be leading this charge into the new digital world of everything?
We will continue our intake of information from the conference and bring you some of the key messages… Get more IT news at e-channelnews.com.