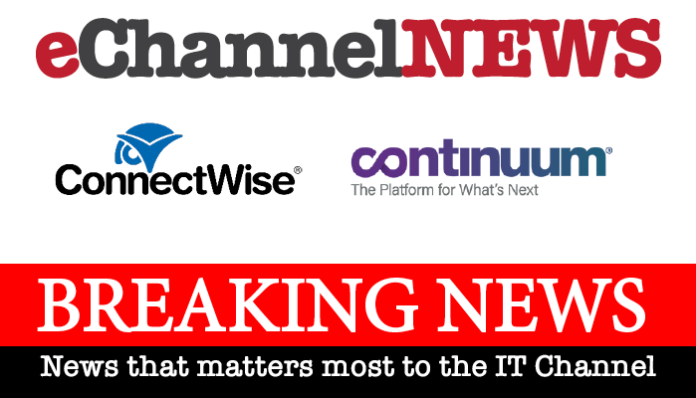 Yet another "leaky rumor" becomes real… With the recent acquisition announcement of Continuum by Arnie Bellini of Connectwise, it seems like there is no slowing down to consolidate the Managed Services platform market. It may seem logical for these platforms to buy up all of the missing pieces, but I am not sure how this benefits the channel in the future. Usually as choices narrow, MSPs will have to pick sides and go with whatever is in the stack.
Outsourcing NOC and SOC services is a really big deal for MSPs!
As other third-party solutions feed off the big 4 platforms (Datto, Connectwise, Solarwinds and Kaseya), they too may be digested into one of these ecosystems (or banished). The one thing that may be likely to derail the consolidation mission is IT Security. As the attack vectors turn towards MSPs, these platforms will most likely be the focus and furry of most hackers.
Here is Jason Magee's, CEO of ConnectWise comment in its entirety: "Over the last 15 years ConnectWise has become the leading provider of technology solutions and services to MSPs. Now, by executing on these deals, we will be able to expand our scope and capabilities to assist the broader community of TSPs in all facets of their business. This is a revolutionary play, making ConnectWise the epicenter for everything from business management and documentation to service delivery and operations management, while also making it much easier and more efficient for partners to work with the technology suppliers they have in their stacks."
There were 2 more interesting announcements by ConnectWise:
A partnership with PRM tool provider Webinfinity to centralize supplier touch points for areas such as deal registration, co-marketing, training and enablement, communication etc.
The acquisition of ITBoost increases efficiencies for IT documentation.
Here is what Michael George, CEO of Continuum had to say: "The combination of Continuum and ConnectWise enables solution providers to transform their business leveraging artificial intelligence, autonomic remediation, and a global workforce when necessary providing our partners with infinite and elastic scale. Our two organizations complement each other perfectly, and the journey Continuum has been on for the past eight years—including our acquisitions of R1Soft, CARVIR and BrightGauge—have led to this transformational merger. The future opportunities for MSPs are extraordinary, and this combined platform empowers them to capture and capitalize on it." You can check out one of my eChannelNEWS interviews with George.
As venture capital players continue to carve up the MSP platform stack, no one knows how this will eventually play out. As MSPs outsource more of the core business values to third-parties, they should keep in mind that their business evaluation may take a big hit. If a third-party becomes the primary "glue" of the IT services, then the MSP role diminishes. Who really owns the customer then? What happens when the MSP refuses to adopt one of the layers of these platforms with their customers? Will other "all-in" MSPs of the platform move in to take over the client?
Seems like this is a slippery slope for MSPs. Making the MSP job easier is one thing, but marginalizing their value-add is dangerous (for them).
I have heard all of the arguments touting the reasons for consultation, including lack of employees and skills (which is a real problem, that can be solved without automation). It sure sounds good and platform makers are smart to exploit these weaknesses in the MSP game. As they dumb-down the skills needed by MSPs, then more less-skilled players can easily enter the game. This growth can easily accelerate commoditization to put even more pressures on margins in a race to the bottom. What would this do to the business valuation of all MSPs? Another, big reason why smart MSPs are in a "SELL-Mode".
I have no power to stop the train, but my advice to all MSPs is to think smart and be careful that you do not simply become a "replaceable" sales agent as you are lead down the path to where you are told that "all you need to do is manage the customer's relationship". Maybe a good time to reread the story of the Pied Piper!
Sure the platform makers are touting a great story, but I argue that with a more open system, more innovation will occur. While they would argue that their platforms are "open" it is naive to think that that they will not side with their brands first.
As big as these MSP platforms become, they are nothing to compare with monster ecosystems like Apple. Try selling anything to any END-USER of Apple products without Apple's blessing and the Apple "tax". Talk to the many banished Apple resellers who built Apple and how they slowly became marginalized as they watched Apple Retail take over the business. Is it really so far-reaching to think what is one of these all-in MSP platforms could go "retail" to bypass the MSP? Apple already wrote the playbook!
I am 100% always on the side of the channel partners. I believe in automation of channel partners. I believe in consolidation to a point. However, I see the risks to MSPs increasing on many levels.
All that said, I hope all of these managed services platforms do the right thing. I am somewhat confident that players like Datto may be on the right side, even with their consolidation playbook. I say this mainly because channel-only leaders like Rob Rae will probably influence the right decisions to be made at Datto. I will be watching for Datto to make a play in the Security field…
It is easy to report and comment on the news, but we are not just talking the talk, we are also walking the walk. Just got back from our ChannelNEXT event where we worked with many MSPs to build a bigger, better, stronger and smarter future. It can be done. Watch for more news on this coming soon as we release our 2020 Channel Vision!
Want to stay on top of the news that matters to the IT Channel? Start by subscribing to the 3 weekly e-newsletters or bookmark echannelnews.com – both free!