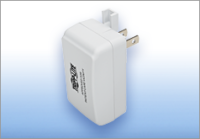 Tripp Lite, has introduced a USB wall charger certified to UL 60601-1 standards, currently the only USB charger on the market fully compliant for use in patient-care vicinities.
Compliance gives this new USB wall charger approval for use in patient-care vicinities in hospitals, clinics and other medical facilities. Approval is based on regulations established in the 2012 edition of the National Fire Protection Association (NFPA) 101 Life Safety Code and the 2012 edition of the NFPA 99 Healthcare Facilities Code.
Ideal for patient, visitor or staff use, this wall charger provides one USB Type-A port with 2.5A of power for fast, efficient charging of smartphones, tablets, MP3 players or USB devices used in healthcare applications. It is compact and can be installed in patient rooms, nursing stations and treatment rooms, or sold in hospital gift shops for visitor and patient use.
This new solution joins a family of healthcare-focused products developed by Tripp Lite for use inside and outside of patient-care vicinities. The product line includes power strips, surge protectors, UPS systems and isolation transformers.
Key Features of Tripp Lite's New Medical-Grade USB Wall Charger
UL 60601-1 listed and compliant with regulations for use in patient-care vicinities of healthcare facilities
Protects against overheating, overcurrent and overcharging
Integrated mounting tab allows for optional permanent installation on an outlet wall plate for compliance and security
For 120V, 50/60 Hz AC input
5.2V, 2.5A (13W) DC output
"Most USB chargers are not safe for use in patient-care vicinities, and that is what sets this new solution apart," said Jim Folk, Tripp Lites Director of Healthcare Solutions. "Because this USB wall charger is tested and compliant to UL 60601-1, it offers the safety and protection needed in healthcare environments, both for compliance and for peace of mind."