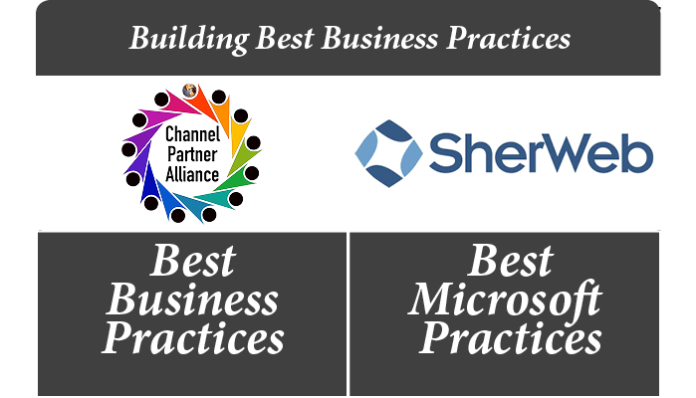 Every VAR, MSP and ITSP wants to build a bigger, better, stronger and smarter business filled with sustainable and predictable recurring revenue. Some have already built amazing businesses while others continue to struggle.
If you don't want to be alone in future-proofing your business, then consider joining your peers in the Channel Partner Alliance. It's the next generation in channel peer-group collaboration. It's 100% about helping its members to build best business practices and streamline operations – two fundamental requirements of all successful channel partners.
How? Members achieve this goal by collaborating in small Mastermind Peer-Groups with professional coaches to improve their business skills (other powerful tools and support are also part of the benefits).
SherWeb is the latest example of the outstanding benefits that members get. SherWeb was recently crowned Microsoft's Best Indirect CSP distributor for 2019. They do a fantastic job in supporting their partners to maximize profitability while expanding their Microsoft book of business.
Check out an interview with SherWeb on how they do it!
Check out the full story on this partnership.
Here are a few benefits that Channel Partner Alliance members get from SherWeb:
The SherWeb team will work with each member to develop and fund an effective marketing campaign to generate qualified sales leads.
Competitive prices on Microsoft and related products. The SherWeb team will show you how to maximize your Microsoft business and profitability.
Access to a growing selection of complementary solutions to expand your current business offerings and revenue.
Outstanding support and service to deliver more than just a satisfactory experience.
We also thank SherWeb for supporting members of the Channel Partner Alliance in building best business practices. With this level of support from SherWeb and other vendors, members will be able to build a stronger business much faster!
Want to learn more? Channel Partner Alliance.
Want to stay up to date? Subscribe. Or join Channel Partner Alliance LinkedIn group.
Ready to start now? Sign up for FREE!
Contact us if you have more questions.
Remember, CPA Standard membership is always FREE for at least the first year to fully experience the value without any risks! Join today!
Meet both teams live in October!
October 9 to 11 at SherWeb's Accelerate Partner Conference in Montreal, Quebec (Channel Partner Alliance members get a 50% discount by entering promo code CPA50 when registering).
October 28 to 29 at ChannelNEXT19 WEST in Banff, Alberta (Sherweb partners get a 50% discount with no time registration restrictions, but hotel accommodation available only while supplies last).