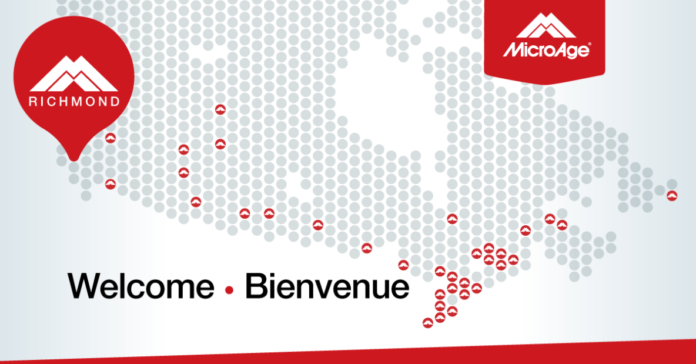 Welcome Richmond!
MicroAge has been successfully operating within the Canadian Information Technology landscape since 1981. The brand is synonymous with delivering unparalleled IT services and solutions within local communities to organizations of all sizes. Now thirty-six locations strong, this national network gains their momentum by leveraging the capabilities, tool-sets and field support offered by MicroAge Canada, the national franchise organization. The MicroAge Value Proposition is built on 4 pillars: the notoriety of the brand, access to continued education, availability of tools and proven methodologies and the benefits associated with community and membership.
They announce the addition of the Richmond location to the MicroAge network. MicroAge Richmond will serve the Vancouver market focusing primarily on the Richmond and Burnaby regions in British Columbia.
Sam Li and Jahan Ghaemi are the owners of GDL Technologies, which has been in operation since 2012. With a combined 20 years of experience in the IT space, Sam and Jahan take pride in helping their customers achieve their business goals through IT with an emphasis on the building of strong relationships. Sam and Jahan feel that joining the MicroAge family will allow them to better serve their customers with an expanded portfolio of services, and by leveraging the combined experience and best practices of the MicroAge Network. They recognized the power and value that a national brand provides along with the resources and marketing services they could leverage. "The reputation and recognition of the MicroAge brand along with the ability to fully serve our customers needs with a complete portfolio offering were driving factors in our decision to join the MicroAge family. Being part of MicroAge affords us the opportunity to increase our local market share which excites us." said Jahan Ghaemi, Partner, MicroAge Richmond.
They are very confident in MicroAge Canada's ability to help IT Solution Providers achieve the goals they have set to succeed and grow. They look for service organizations who want to transform their businesses. Their Franchise program accelerates their transformation journey by enabling added service-delivery capabilities, and efficiencies in their processes and overall business operations.