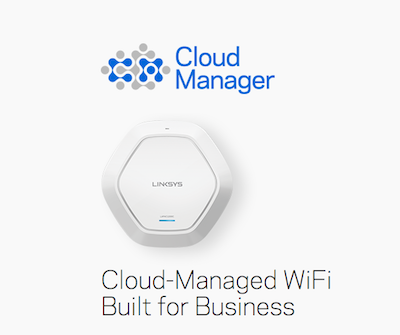 Linksys, celebrating thirty years of networking and WiFi innovation for the home and business, announced Linksys Cloud Manager, a cloud-hosted WiFi Management Platform purpose-built for small business environments that reduces costs and increases operational efficiencies. The solution offers centralized visibility, management and control of a wireless network without the cost and complexity of traditional hardware controllers, overlay software, or annual hosting costs.
Linksys Cloud Manager enables IT administrators and other authorized users to remotely monitor, manage and troubleshoot single or distributed wireless networks in real time via a single dashboard and sign-on. This plug-n-play platform helps provide secure remote access to Linksys Business Wireless-AC Access Points, which are built with enterprise-grade, high-performance hardware, and is competitively priced with no licensing or maintenance fees for five years*. The included cloud license fits any budget and provides a complete solution for IT solutions providers and their SMB customers.
"There is a gap in the market for affordable, business-grade cloud managed WiFi management platforms designed specifically for SMBs," said Wayne Newton, director of commercial business, Linksys. "Current offerings are either built with consumer-grade hardware or with expensive, enterprise features with prohibitive annual hosting fees.  A common complaint is enterprise offerings are complex and over-engineered with features and functionality beyond the usual requirements of a small business network."
Simplifying SMB Network Management
The Linksys cloud architecture provides a feature set designed to streamline administration and improve productivity, giving users more control over network uptime and the ability to ensure QoS in real time.
"The Linksys Cloud Manager is very easy and intuitive to navigate. I have used Meraki, Cradlepoint, and Aerohive in the past and this is by far the easiest interface to navigate," said Michael Johnson, a solution engineer for RCN Technologies, an IT services company.
Unlocking Profitability for IT Solutions Providers
Limited resources, constrained spending budgets, and the proliferation of devices and IoT are further complicating wireless networks, and as a result, driving SMBs to move toward network managed services where an IT partner is responsible for the network on an ongoing basis.  The migration to cloud-based applications and everything-as-a-service presents a big growth opportunity in the SMB space for IT channel providers.
"Linksys places high importance on being partner-centric and meeting their needs with competitive solutions and programs. Linksys Cloud Manager was designed by truly listening to our channel partners' business goals and challenges, and it addresses a gap where current cloud WiFi platforms fall short," continued Newton.  "Linksys Cloud Manager makes it easier for IT solutions providers to remotely manage clients' WiFi networks, and to increase revenue and profit in the SMB market."
Linksys Cloud Manager is an ideal solution for resellers and IT solutions providers looking to develop a managed service model and generate recurring revenue. For those who already are, it's a compelling alternative to pricier cloud solutions and will help round out their product portfolio to address customers with smaller IT budgets.
"While investigating the needs of SMBs, we quickly realized they had the needs of larger companies, but the market lacked an affordable and easy-to-use cloud management system," said Anthony Pham, senior product manager, Linksys. "Linksys Cloud Manager meets an underserved gap for true, business-grade cloud SMB networking at a price point that no other vendor can match."
For more information, visit linksys.com