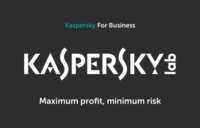 Kaspersky Lab has announced the release of Kaspersky Free, a solution to protect Windows home users from online threats. The new, free anti-virus product is based on the company's award-winning technologies, and provides basic security protection against online threats without slowing down PCs.
According to the Pew Research Center, 80 percent of U.S. households contain a desktop or laptop computer and 90 percent contain at least one connected device (smartphone, desktop/laptop computer, tablet or streaming media device). With more people using connected devices, it's important to have reliable security protection on every device.
Kaspersky Free ensures automatic blocking of suspicious or malicious files and programs. It also alerts users to potentially malicious websites and phishing pages, preventing criminal attempts to steal money or personal identity. Kaspersky Free databases are automatically updated in real-time, so that users are protected from the most current threats.
"We have been in the IT security market for 20 years and our driving principle throughout that time has been the belief that everyone worldwide deserves to be protected against digital threats," said David Mello, head of customer support, Kaspersky Lab. "Our free solution extends our top-quality protection to even more people, supporting our mission to save the world and provide reliable protection against cybercrime."